Interested in pursuing your passion for film abroad?
Dare to reach your dreams!
We will give you an opportunity to become a professional and gain a bachelor's degree!
Learn more about International Studies at Warsaw Film School!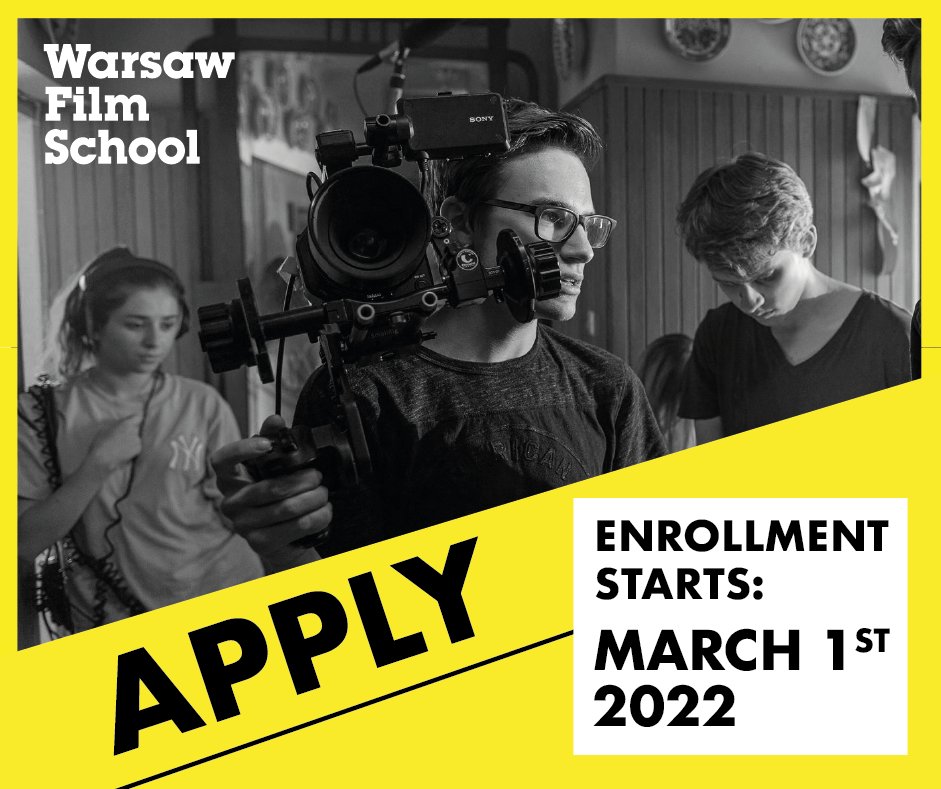 ENROLLMENT for Academic Year 2022/2023 STARTS NOW
or CLICK HERE to learn more about recruitment process


WARSAW FILM SCHOOL was founded in 2004 by Polish film director, producer and screenwriter Maciej Ślesicki and one of the country's most popular actors, Boguslaw Linda. The academy is a unique film institution, one of three in the country to grant BA diplomas, andy one of the fastest growing film academies in Europe. We employ a highly qualified, professionally active teaching staff of Polish and international filmmakers and film scholars.
Listen to what we have to offer!

OUR CAMPUS
Based in the capital of Poland and perfectly communicated with the city centre, the campus of Warsaw Film School, with the capacity of 2,600 sq. m, is offering space for film and photography shoots, dark rooms, post-production facilities, game development studio and a high-end sound studio. Warsaw Film School has also its very own art-house cinema called Kino Elektronik right on campus.
| | | | |
| --- | --- | --- | --- |
| | | | |
| INSIDE | OUTSIDE | POST-PRODUCTION STUDIO | CINEMA ELEKTRONIK |

OUR STUDENTS
Listen to what our international students have to say about studying with us!
Our graduate Dorota Kobiela was nominated for The Oscars in 2018 for "Loving Vincent". This was the second Oscars nomination that our School graduates can be proud of. The first one was given in 2015 to Tomasz Śliwiński for his Student Documentary Short Subject "Our Curse".
Our student films have been awarded and presented at many international & national film festivals including: Locarno, Moscow IFF, Karlovy Vary, Camerimage, Kraków Film Festival, Tirana, Regard, Pointers, Aethetica, Flicker's Rhode Island, Cleveland, Aspen, Palm Springs, Chicago, Hollyshorts, Odense, Heartland, Huesca, Bogo shorts, Bengalure and many more.

OUR COURSES
CINEMATOGRAPHY & POST-PRODUCTION
Warsaw Film School has launched a unique, undergraduate BA Film and Multimedia course, which turned out to be very popular among foreign students. The innovative programme for our new specialization in Cinematography and Post-production is based on knowledge and experience of world class multimedia specialists, as well as active filmmakers, creators.
FILM, TV PROGRAMMES & VIDEO GAMES DIRECTING
Warsaw Film School programs blend academic theory with practical skills to equip students with comprehensive knowledge they need to find a job in the competitive field of film and games industry. Students learn the professional skills necessary to become a filmmaker or game developer. Students will work on each others' productions with different crews, directors, cinematographers, actors, producers, game designers and receive practical experience that helps to prepare upon entering the film and video game industry.
| | | | |
| --- | --- | --- | --- |
| | | | |
| DIRECTING CLASSES | CINEMATOGRAPHY CLASSES | MOTION CAPTURE CLASSES | GAME ANIMATION CLASSES |
Watch a video of our Integration Workshop and feel a glimpse of what it is like to be a student of Warsaw Film School!

GOT QUESTIONS? CLICK TO READ OUR FAQ ABOUT STUDYING IN POLAND